About the Project
Background to SCIPS
SCIPS (Strategies for Creating Inclusive Programmes of Study) is the result of a HEFCE funded project that was authored and managed by Dr Val Chapman(NTF) at the University of Worcester.  SCIPS assists the academic community in developing a more inclusive approach to the design of teaching, learning and assessment strategies that will enable disabled students to participate more fully in Higher Education.
New Project 2018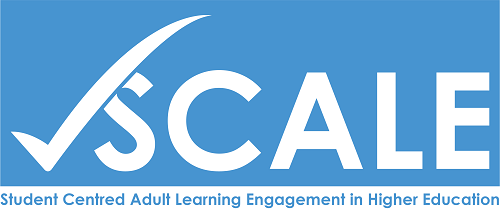 Student Centred Adult Learning Engagement in Higher Education (SCALE)
https://www.worc.ac.uk/about/academic-schools/school-of-education/education-research/scale-project.aspx 
Student Centred Adult Learning Engagement in Higher Education (SCALE) is a project aimed at supporting lecturers delivering degree level courses in universities, colleges and other educational providers.
Following research identifying the learning needs of students in secondary education, this project explores how lecturers are supported and equipped to meet students' needs when they progress into Higher Education.  This project will explore needs that lectures identify, and also their examples of best practice. It will respond to the needs, and collate the best practice, adding to this to create a toolkit to facilitate high quality learning support for students working at degree-level. The resulting toolkit will be made freely available online in the partner languages of English, Italian, Polish and Spanish.
Staff development will be provided for lecturers through an e-course that will be piloted, refined and published as part of the SCALE project. The result will be the upskilling of at least 80 lecturers during the development of the project, with a tried and tested high quality resources established to support many more following the launch of the toolkit.
If you are interested in this project and would like more information please contact :
Richard Woolley or Sharon Smith   SCALE@worc.ac.uk
Other Projects
In addition to projects relating to education, the University of Worcester is also involved in projects relating to the employment/employability of disabled people.
Employability and Disability
The major outcome of the project will be a web-based resource, USEMYABILITY, that will:
enable academic and careers staff support disabled learners in developing and/or demonstrating their employability skills, competencies and attributes as described in the Student Employability Profiles: A Guide for Higher Education Staff (Kubler et al, 2006
enable employers to meet the needs of disabled students in their work placement experience, foundation degrees, sandwich courses and/or internships.  UPDATE March 2017. Please note USEMYANBILITY web pages are temporarily unavailable
Other projects:
The GUIDE project: Guidelines for Teachers Working with Students with Medium-light Cognitive Impairment.  The project is focused on teachers working in secondary schools with students about 12-18, depending on national education systems.
On this website you will find information about the project, its objectives and activities, as well being able to access materials developed in the project
Guide project: www.guideproject.eu